So you had an idea and wanted to make something?
That's cool. But what happens when that project doesn't go to plan and you're left with "Project Fail"?
As an artist I have heaps of ideas I want to weave, but sometimes I fail to execute them. At first, it basically feels like I'm left with a piece of crap, and it's certainly not something I want to put on display let alone enter into an art show or put up for sale!
The most recent was my first attempt to weave a list. And no, it wasn't my shopping list! It was a special list. Something my 8 year old nephew had written in response to the devastating bushfires that rang in 2020 for Australia. Overcome with emotion at seeing an evening news report, he raced off to write a list of things he could personally do to help those affected by the worst fires this country has ever seen. I'm not going to say what was on the list, because I still plan to weave it. But my first attempt, aka the Project Fail, got me thinking about the positives I could take away from the experience.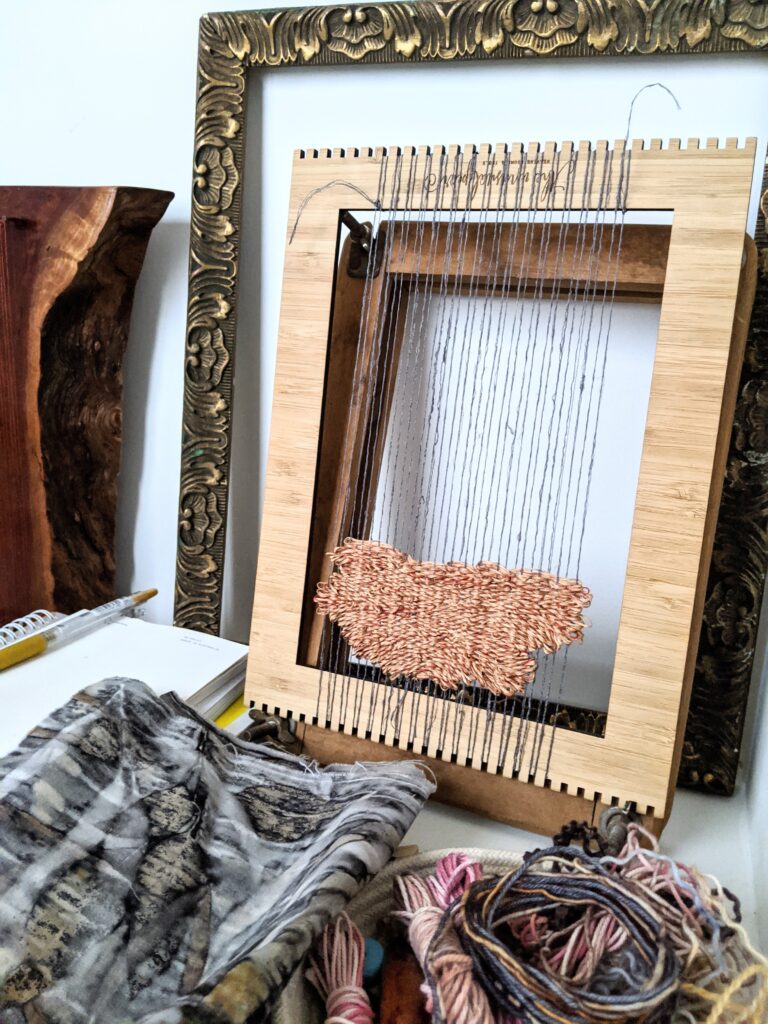 It was good practice
What I wanted to make might not have worked out this time. But the fact that I spent several hours at my loom anyway meant that I still kept up a weaving practice. That in itself is a good exercise in mindfulness for me. Of just being in the moment and letting that repetitive over-under-over-under motion serve as my meditation.
I was also trying a couple of new things – experimenting with a different warp thread and adding an additional element over the top of the tapestry. So maybe I shouldn't have been too surprised that this first attempt didn't work out so well. BUT! Now I know how that warp thread will behave the next time I use it again. And I got that all important practice in for my needlework!
Now I know what didn't work
I had an idea and I tried to execute it. I was trying something new, that isn't exactly my forte (I tried to embroider some lettering – see above re needlework). Although I could picture it perfectly in my mind, this project didn't quite go to plan. I mean, I thought it would. I was stubborn and kept going despite my own doubts and some murmured misgivings from those close enough to share my progress with. So I saw it through until almost the end.
My idea simply hadn't worked. But now I know why it didn't work and I know what steps I can take to fix it. That means (a) I've further developed my original idea, so that (b) I can make it better. The colour I was using for the background in this tapestry didn't provide enough contrast with the lettering. The lettering was too small and hard to read. These are simple problems to overcome. So I might not have gotten it right the first time, but now I know what didn't work!
I still made something
At the end of the day I might not have ended up with the tapestry I'd seen in my mind's eye. But I did still make something. I saw through my original idea, even though I was unsure if it would work. And I learned something in doing so. This original piece isn't necessarily going to go anywhere… it's not going to be sold or exhibited. In fact, it's highly likely it will eventually be taken apart so I can reuse the beautiful fibres in it! But for now, rather than remaining my Project Fail, it's serving as a sampler to refer back to while I weave that second attempt.
This experience was a good lesson in that not everything an artist creates is going to be their next masterpiece. To take the failed projects for what they are – opportunities to learn and grow.