2023 has started with a new project already underway! The big loom is warped and I've started weaving another large tapestry in my Mount Majura series.
Since I'm still rather fresh (29 hours) into this project, I thought I'd run you through my design process. Because there's actually a whole lot of work that goes into a tapestry, before you even start weaving.
Now you don't start anywhere without inspiration, and my nature walks over at Mount Majura have certainly provided a lot of that! The design for this tapestry is from a collage I made in 2021, titled 'Eucalypts'. I have drawn a lot from the Majura collages and paintings I did back then. And I'm still referring to them 18 months later!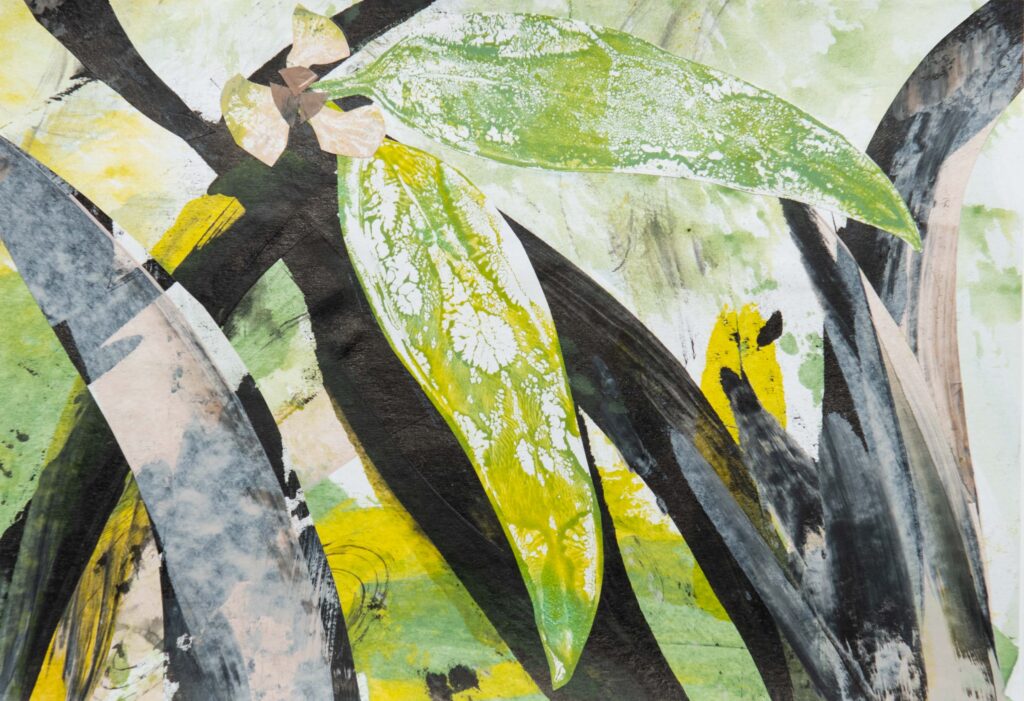 This next tapestry was designed using my 'Eucalypts' mixed-media collage.
My next step is drawing up the cartoon. This is a simplified line drawing of the design or picture I'm going to weave. In this case, I traced over the main lines of the original 'Eucalypts' collage (which is about A5 in size).
But I want to weave a MUCH bigger tapestry, right? So I overlayed the A5 cartoon with a grid, 1x1cm. On some butcher's paper I drew up another larger grid, about 4x4cm. I then redrew the cartoon into that larger grid, one square at a time.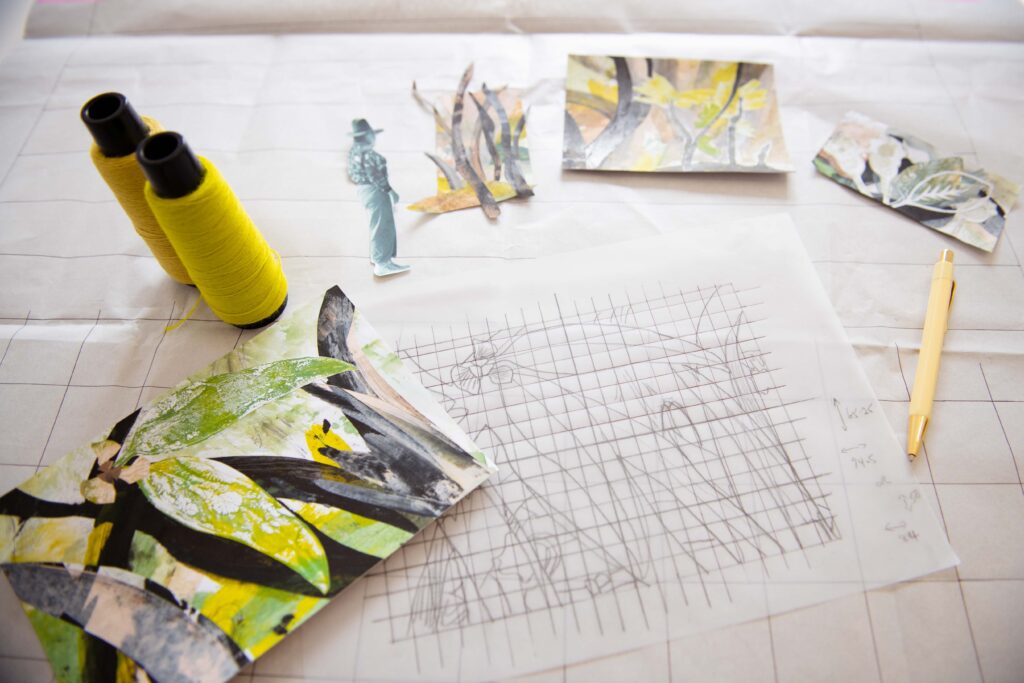 Voila! Big cartoon for a big tapestry!
Next, I figure out my colours. Matching yarn to the original collage and ordering anything I might need. I also warp up the loom, so it's ready for weaving. (There's a bunch of technical stuff about warping up, but I won't bore you with that.) Trusty Husband helped me a lot with the warp this time; I'm still not used to warping such a large loom!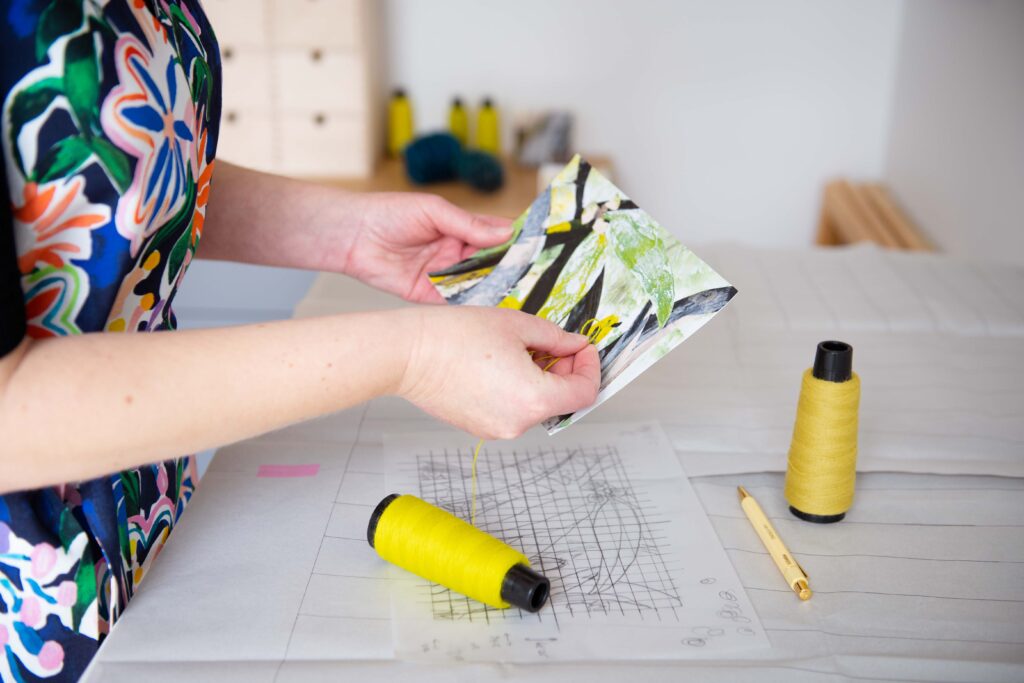 Matching yarn colours to the original collage.
Finally, once the loom is ready, it's time to weave!
For larger pieces, I've decided to weave hems at the top and bottom, before starting on the tapestry proper. Each hem can take several hours – especially at 95cm in length – but it makes for nicely finished edges once you're done! When I weave smaller format though, I just get stuck into the tapestry itself and not worry about a hem.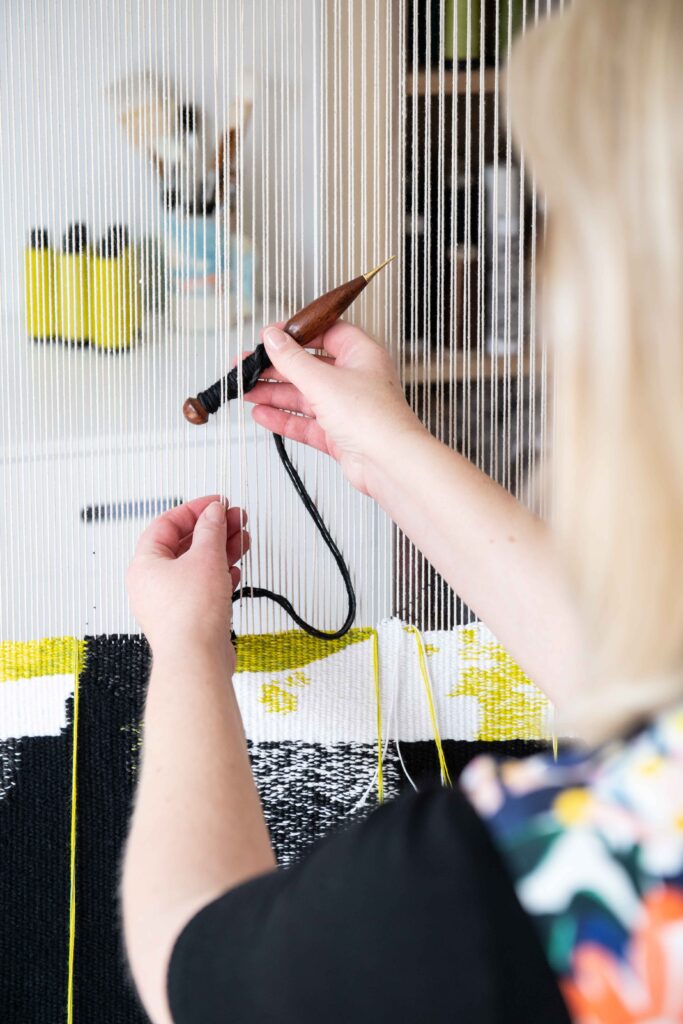 Aaand NOW we weave! (In actual fact this is the tapestry I wove
before I started the 'Eucalypts' tapestry… but you get the idea!
Be sure to keep an eye on my Instagram to see how 'Eucalypts' is coming along!